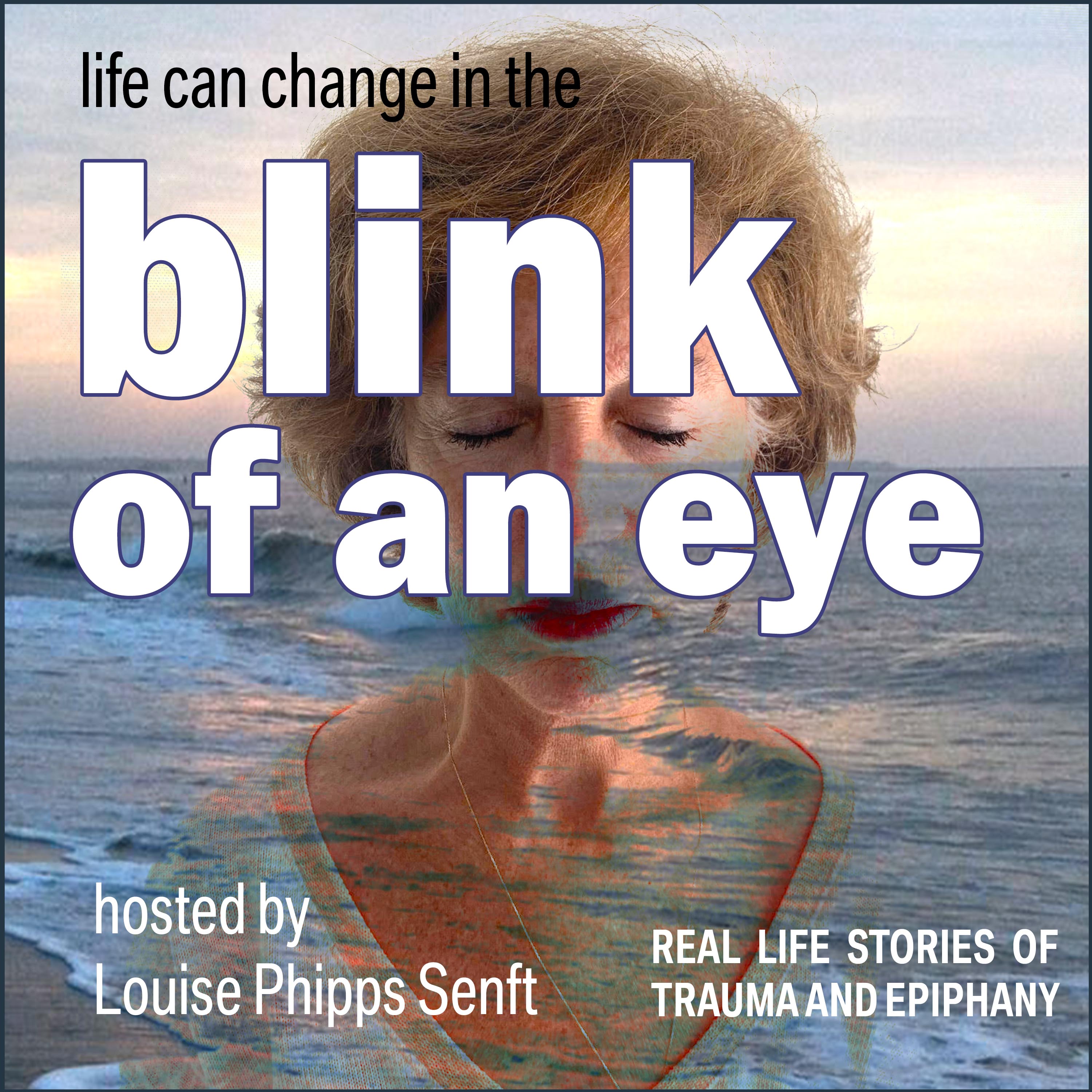 Blink of an Eye, a new podcast with Louise Phipps Senft, explores stories of trauma, loss, awakening, and epiphanies. Ms. Senft recounts her experience navigating a life-changing accident that rendered her son, Archer, paralyzed from the neck on down, and expands the story with interviews of those behind the scene. Told through real journal entries and inspiring guests, Blink of an Eye will inspire you to explore the true nature of our relationships and interconnectedness in the face of an event that changes everything.
Episodes
Saturday Oct 29, 2022
Trauma stories are full of ups, downs and flashbacks. Today, we want to bring the Blink of an Eye story back to Day 51 at the Shepherd Center. Join us for a moment of rest, as Louise recaps and reminiscences about coming back to the rehabilitation hospital room and the uncertainty which lingered around their stay. Hard realizations of change are accompanied by slow acceptance and mournful, necessary tears. Hear from those who eased the unsettling experience, including powerful songs and short escapes from the constant alarms of monitors. We hope this episode touches you as it touched us, and that your moment of rest is restorative and clarifying for your journey. Sending love.
In this episode, you'll hear interview excerpts from:
Dr. Angie Arnold, an adult psychiatrist whose practice is comprised of women patients in Atlanta, Georgia.  Hear how Louise and Angie met, and how their friendship grew during Archer's time in the Shepherd Center.  Listen in for Angie's observations and how she and Louise created brief moments of normalcy amidst deep grief and uncertainty.
Blink of an Eye Podcast is sponsored by the Blink of an Eye Non Profit: a non-profit created as a national resource to help change the way we respond to Spinal Cord Injury to include trauma healing approaches for families and medical teams across the U.S. Blink of an Eye provides a national team of SCI specialized doctors for expert opinions in the first hours of crisis, a Multidisciplinary Family Support & Navigation Team for SCI families lead by SCI families for the first 30 days of crisis, and a National Resource Library of trauma informed responses for the first hours and days after injury specialized for families, friends and SCI medical staff. Blink of an Eye also offers a Registry of Medically Unexpected SCI Recoveries. Blink of an Eye will host the inaugural conference, The Science of Trauma: Hope for Trauma Healing, November 3, 2022. To donate and find out more, visit www.blinkofaneye.org or events.icthat.org.
To find out more about Archer, Louise, and this podcast, visit the websites blinkofaneyepodcast.com, BaltimoreMediation.com and BeingRelational.com. Follow us on Instagram and Facebook @blinkofaneyepodcast. Our Twitter is @blinkofaneyepod. 
Make sure to subscribe wherever you get your podcasts.
You can become a member of our Patreon community and see extra Blink of an Eye content and bonus episodes at: www.patreon.com/blinkofaneyepod. 
To see some of Archer's artwork, check out www.slimeyard.com. 
#hopeforeverything   #obtaineverything
#lovehealstrauma
Our theme music is by Victoria Vox. 
Music in this episode is:
Emotional Nostalgic by MusicLFiles
Link: https://filmmusic.io/song/8541-emotional-nostalgic
License: https://filmmusic.io/standard-license
Ethereal Meditative Piano by MusicLFiles
Link: https://filmmusic.io/song/6292-ethereal-meditative-piano
License: https://filmmusic.io/standard-license
Calm Meditation by MusicLFiles
Link: https://filmmusic.io/song/7456-calm-meditation
License: https://filmmusic.io/standard-license
Piano Hymn by Alexander Nakarada
https://filmmusic.io/song/9276-piano-hymn
License: https://filmmusic.io/standard-license
Heartfelt Tears by MusicLFiles
Free download: https://filmmusic.io/song/8903-heartfelt-tears
License: https://filmmusic.io/standard-license
Sad Reflection and Grief Piano by MusicLFiles
https://filmmusic.io/song/8272-sad-reflection-and-grief-piano
License: https://filmmusic.io/standard-license
Sadness by MusicLFiles
https://filmmusic.io/song/8051-sadness
License: https://filmmusic.io/standard-license
Ambient Suspenseful Calm by MusicLFiles
Link: https://filmmusic.io/song/8563-ambient-suspenseful-calm
License: https://filmmusic.io/standard-license
Placid Ambient by MusicLFiles
Link: https://filmmusic.io/song/6189-placid-ambient
License: https://filmmusic.io/standard-license
Horizon Flare by Alexander Nakarada
Link: https://filmmusic.io/song/4837-horizon-flare
License: https://filmmusic.io/standard-license
Meditative Sad Piano by MusicLFiles
Link: https://filmmusic.io/song/8763-meditative-sad-piano
License: https://filmmusic.io/standard-license
Meditative Sweet Piano by MusicLFiles
Link: https://filmmusic.io/song/8678-meditative-sweet-piano
License: https://filmmusic.io/standard-license
Emotional Piano Improvisation by Alexander Nakarada
Link: https://filmmusic.io/song/6199-emotional-piano-improvisation
License: https://filmmusic.io/standard-license
Emotionalism by Alexander Nakarada
Link: https://filmmusic.io/song/5867-emotionalism
License: https://filmmusic.io/standard-license
Soft Interlude by Alexander Nakarada
Link: https://filmmusic.io/song/7766-soft-interlude
License: https://filmmusic.io/standard-license
Cinematic Background Sad by MusicLFiles
Link: https://filmmusic.io/song/8181-cinematic-background-sad