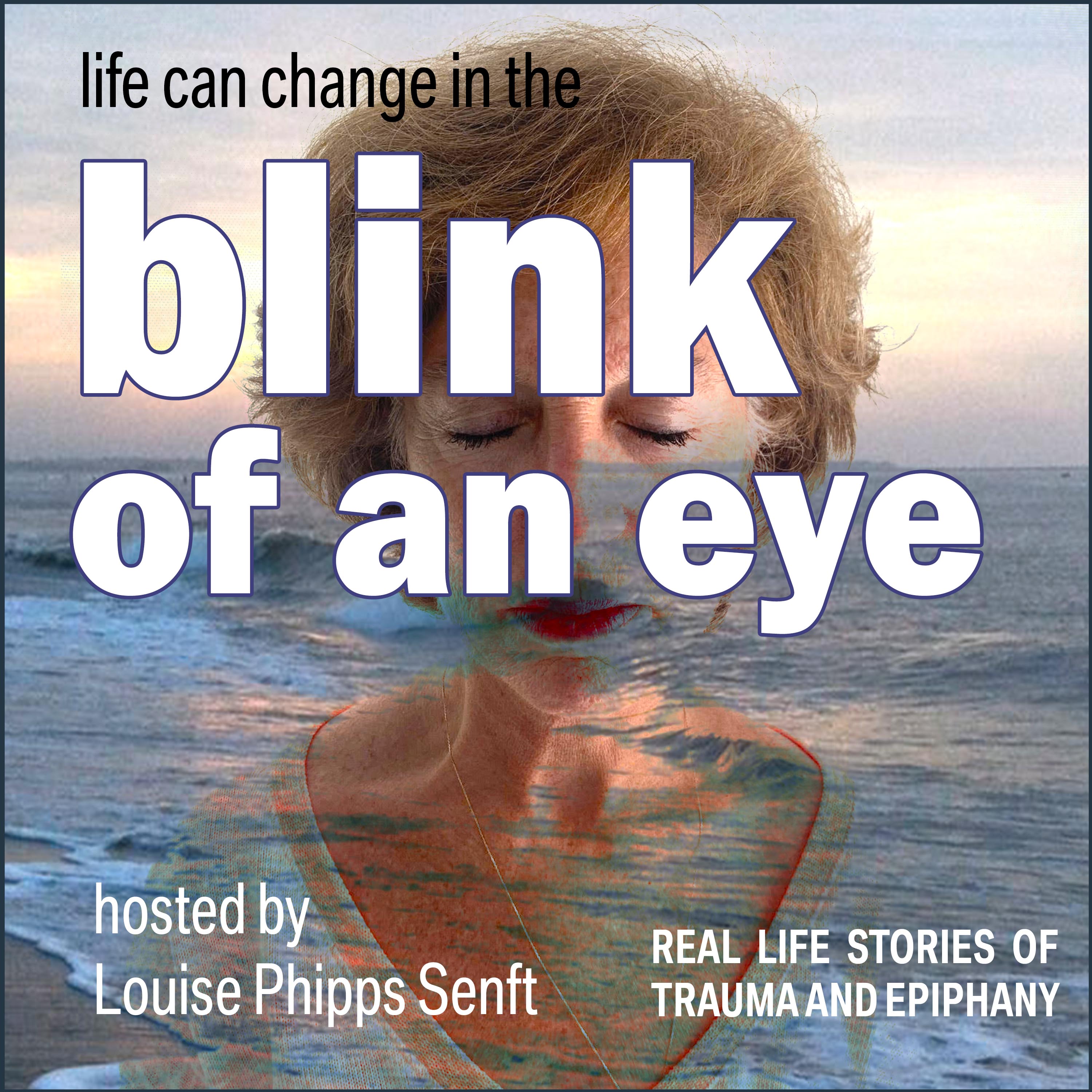 Blink of an Eye, a new podcast with Louise Phipps Senft, explores stories of trauma, loss, awakening, and epiphanies. Ms. Senft recounts her experience navigating a life-changing accident that rendered her son, Archer, paralyzed from the neck on down, and expands the story with interviews of those behind the scene. Told through real journal entries and inspiring guests, Blink of an Eye will inspire you to explore the true nature of our relationships and interconnectedness in the face of an event that changes everything.
Episodes
Thursday Sep 22, 2022
Thursday Sep 22, 2022
The feeling of coming home after you've been away at battle is like a warm sensation of solid safety. Coming home is also a reminder of what it is like to be seen, to be known as who you are, and to be reminded of the lives you've touched and the lives that touch you back. It can also be a whirlwind of conflicting emotions, as coming home isn't always stress-free. Join Louise in the second part of her heart-warming, yet heart-breaking, return home and hear from the people who help her achieve solace in a number of different ways. You'll also experience what an established personal care team can look like, as having one is often crucial to the trauma healing process. Warm hugs, a place to break down, watching a water lily bloom and getting a great haircut are all healing experiences. You'll hear about muscle response testing too, and its role in restoring the body to good health.  Recovering from trauma is a personal journey, and it's all about what feels right for you. We hope these Blink of an Eye examples grasp you by the hand and lead you down your own path of healing and refortification.
In this episode, you'll hear interview excerpts from:
Ellen Webb, a long-time neighbor, friend and "sister," as Louise describes in the first part of Going Home. Ellen was on a walk at the time of Louise's arrival to Baltimore, and she offered heartwarming support during what was an emotional return to the Senft family home.
Sue Ebert, Louise's hairdresser and a member of her healing circle. Sue shares her memories of a particularly impactful appointment with Louise, and she also discusses the powerful healing elements of human touch.
Dr. Mary Ann Ley, a trained Chiropractor and Nutritional Response Testing practitioner and part of Louise's healing circle in Baltimore whom she returned to during the intense ICU days. Listen in to Dr. Ley's companion Trauma Healing Learning interview to learn about the body's wisdom to let you know what is not good for you by testing the muscles, and to hear first hand accounts of the power of the healer's intention.
Blink of an Eye Podcast is sponsored by I C THAT — The Integrative Center for Trauma Healing, Advocacy and Transformation and the Blink of an Eye non-profit created as a national resource to help change the way we respond to Spinal Cord Injury to include trauma healing approaches for families and medical teams across the U.S.  I C THAT provides a national team of SCI specialized doctors for expert opinions in the first hours of crisis, a Multidisciplinary Family Support & Navigation Team for SCI families lead by SCI families for the first 30 days of crisis, and a National Resource Library of trauma informed responses for the first hours and days after injury specialized for families, friends and SCI medical staff. I C THAT also offers a Registry of Medically Unexpected SCI Recoveries.  I C THAT will host the inaugural conference The Science of Trauma: Hope for Trauma Healing November 3, 2022.  To donate and find out more, visit www.ICTHAT.org.
To find out more about Archer, Louise, and this podcast, visit the websites blinkofaneyepodcast.com, BaltimoreMediation.com and BeingRelational.com. Follow us on Instagram and Facebook @blinkofaneyepodcast. Our Twitter is @blinkofaneyepod. 
Make sure to subscribe wherever you get your podcasts.
You can become a member of our Patreon community and see extra Blink of an Eye content and bonus episodes at: www.patreon.com/blinkofaneyepod. 
To see some of Archer's artwork, check out www.slimeyard.com. 
#hopeforeverything   #obtaineverything
#lovehealstrauma
Our theme music is by Victoria Vox. 
Music in this episode is:
Emotional Nostalgic by MusicLFiles
Link: https://filmmusic.io/song/8541-emotional-nostalgic
License: https://filmmusic.io/standard-license
Ethereal Meditative Piano by MusicLFiles
Link: https://filmmusic.io/song/6292-ethereal-meditative-piano
License: https://filmmusic.io/standard-license
Calm Meditation by MusicLFiles
Link: https://filmmusic.io/song/7456-calm-meditation
License: https://filmmusic.io/standard-license
Piano Hymn by Alexander Nakarada
https://filmmusic.io/song/9276-piano-hymn
License (CC BY 4.0): https://filmmusic.io/standard-license
Heartfelt Tears by MusicLFiles
Free download: https://filmmusic.io/song/8903-heartfelt-tears
License (CC BY 4.0): https://filmmusic.io/standard-license
Sad Reflection and Grief Piano by MusicLFiles
https://filmmusic.io/song/8272-sad-reflection-and-grief-piano
License (CC BY 4.0): https://filmmusic.io/standard-license
Sadness by MusicLFiles
https://filmmusic.io/song/8051-sadness
License (CC BY 4.0): https://filmmusic.io/standard-license
Ambient Suspenseful Calm by MusicLFiles
Link: https://filmmusic.io/song/8563-ambient-suspenseful-calm
License: https://filmmusic.io/standard-license
Placid Ambient by MusicLFiles
Link: https://filmmusic.io/song/6189-placid-ambient
License: https://filmmusic.io/standard-license
Deep Relaxation Preview by Kevin MacLeod
Link: https://incompetech.filmmusic.io/song/5726-deep-relaxation-preview
License: https://filmmusic.io/standard-license
Relaxing Meditation by Liron
Link: https://filmmusic.io/song/7891-relaxing-meditation
License: https://filmmusic.io/standard-license
Horizon Flare by Alexander Nakarada
Link: https://filmmusic.io/song/4837-horizon-flare
License: https://filmmusic.io/standard-license
Poignant Meditative Piano by MusicLFiles
Link: https://filmmusic.io/song/8752-poignant-meditative-piano
License: https://filmmusic.io/standard-license
Meditative Sad Piano by MusicLFiles
Link: https://filmmusic.io/song/8763-meditative-sad-piano
License: https://filmmusic.io/standard-license
Meditative Sweet Piano by MusicLFiles
Link: https://filmmusic.io/song/8678-meditative-sweet-piano