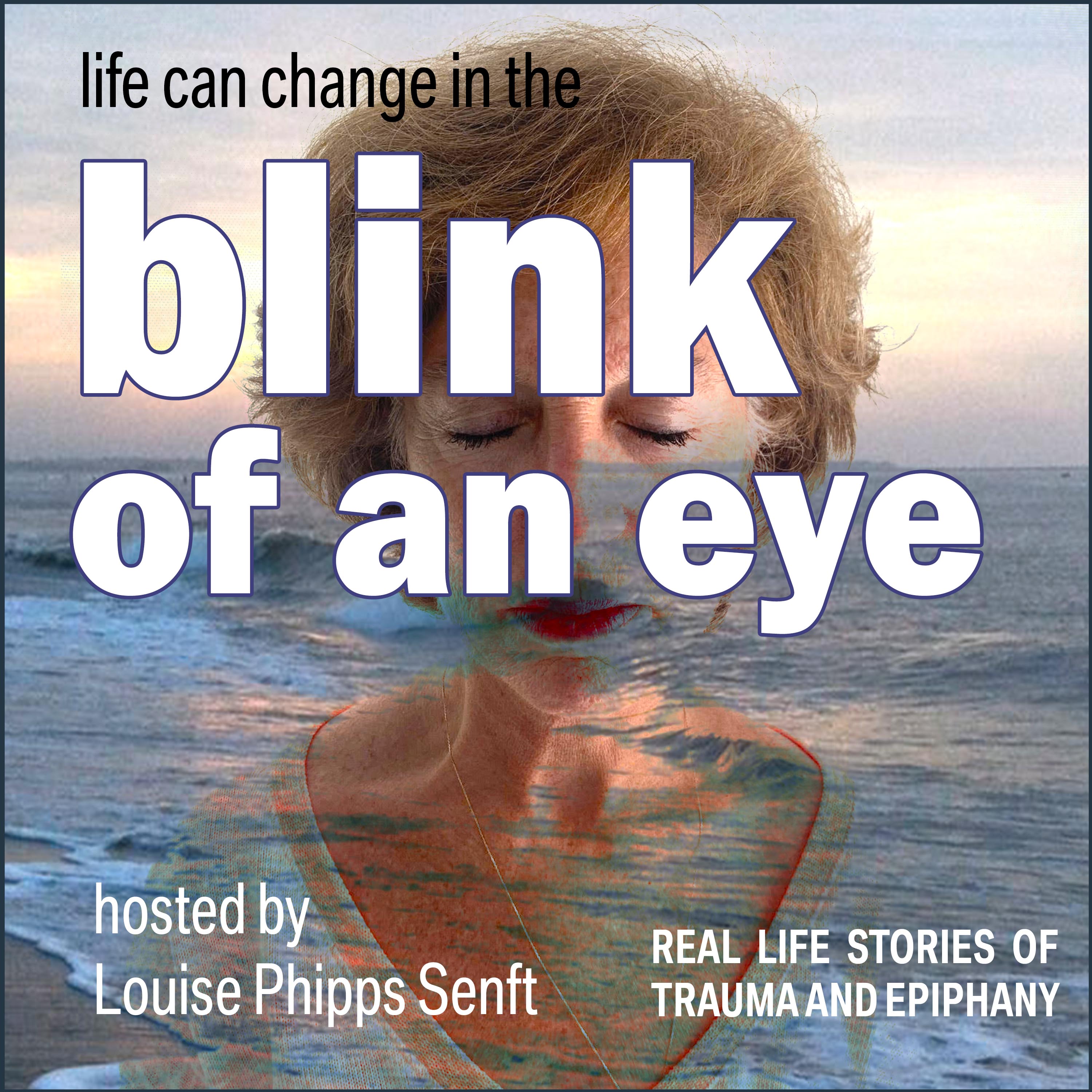 Blink of an Eye, a new podcast with Louise Phipps Senft, explores stories of trauma, loss, awakening, and epiphanies. Ms. Senft recounts her experience navigating a life-changing accident that rendered her son, Archer, paralyzed from the neck on down, and expands the story with interviews of those behind the scene. Told through real journal entries and inspiring guests, Blink of an Eye will inspire you to explore the true nature of our relationships and interconnectedness in the face of an event that changes everything.
Privacy Statement
1. Blink of an Eye Subscription Service
The Funnel Media Group subscription services are limited to a voluntary subscription for announcements by FMG Associated sites and announcements of events and announcements. This includes Blink of an Eye Podcast by Louise Phipps Senft.
FMG Use of Information
The voluntary information offered by subscribers is limited to demographic information. Only asterisked areas are mandatory which include name, email address and county.
Use by Our Customers
Subscriber use our websites to stay updated for the next post of an episode.
"Sensitive Information"
Funnel Media Group LLC associated websites do not request any sensitive information such as credit card, personal financial information, social security numbers, drivers' license numbers or other personal identifiers beyond a valid email account. We do not request or maintain any information pertaining to racial or ethnic origin, mental health, or physical condition. We do maintain title and company of employment if voluntarily offered for internal information to understand our members or subscribers. 
2. Information We Collect
When You Visit our FMG Associated Websites
You may explore the FMG Associated websites without providing any personal information. When you visit the Websites or register for the Subscription Service, we request that you provide limited personal information about yourself, or else how are we supposed to get you the information you request?  We do not collect navigational information. We just want you to get the most current episodes timely.
When You Use the Mobile Version of Our Sites
We use mobile analytics tied to our regular analytics through Google and our site admin to allow us to better understand the functionality of your mobile experience on your mobile device. As is typical with Google Analytics, it may record information such as how often you visit the site, aggregated usage, performance data, and where the mobile site was accessed from. In addition to information we collect on our Websites we may also collect your city location, device model and version, device identifier (or "UDID"), and OS version.
We send push notifications from time to time in order to update you about events or promotions. If you no longer wish to receive such communications, you may unsubscribe off at any time.
"Personal Information"
This refers to any information that you voluntarily submit to us and that identifies you personally, including contact information, such as your name, e-mail address. Personal Information can also include information about any transactions, both free and paid, that you enter into on the Websites, and information about you that is available on the internet, such as from Facebook, LinkedIn, Twitter and Google, or publicly available information that we acquire from service providers. There isn't any email, name, company info collected without your entering it or someone on your behalf. This happens when those sites use tracking ads/cookies that follow you everywhere. We don't do that, but we cannot control what those other sites do.
Personal Information also includes Navigational Information or Payment Information where such information can directly or indirectly identify an individual. Navigational information refers to information about your computer and your visits to this website such as your IP address, geographical location, browser type, referral source, length of visit and pages viewed. Please see the "Navigation Information" section below. 
Information from third parties
We do not collect information from Third Parties
Information About Children
The FMG Websites are business to business and business to consumer sites.  These sites are not intended for or targeted at children under 16. Frankly, they'd find the content quite dry since most have no clue what all the acronyms we use are for. We do not intentionally collect information about children under 16 years of age. If it becomes apparent we have collected information about a child under 16 years of age please contact us at [email protected] and we will delete the information.
3. How We Use Information We Collect
Compliance with Our Privacy Policy
FMG Associated sites collect and retain information in compliance with this Privacy Policy. Sponsors, Funnel Media Radio Hosts who benefit from Subscription Services are obliged through our agreements with them to comply with this Privacy Policy. The majority of our sites require NO logins ever. The data collected is minimal and relates more to ensuring site performance, valid links and the like.
We do not sell or share personal membership or subscriber information.
We will not under any circumstance sell or share your personal information to any third party.
Use of Personal Information
For the Sales Lead Management Association, we survey information voluntarily submitted to understand by job title and company affiliation their probable areas of interest in sales and marketing. Subscribers to "Get Response" a service used for Radio Program Subscribers if accessed by the hosts of the various radio and podcast programs we produce. These hosts must comply with FMG policy use statements. 
If you subscribe to our Funnel Radio shows, including Blink of an Eye, through Apple Podcasts, Google Play, Stitcher, Blubrry, Lipsyn, SoundCloud, and other podcast apps and venues, those privacy policies are between you and them, we only give you links to use their systems to subscribe to our shows in those venues.
Our lists are never shared with any partners. Email communications to members and subscribers are always from FMG not from associated partners.
EEA visitors only -  Legal basis for processing Personal Information- all the new stuff we had to account for:
If you are a visitor/customer located in the European Economic Area ("EEA"), the Funnel Media Group and Sales Lead Management Association in the United States is the data controller for your information: [email protected]
We will collect personal information from you where we have your consent, where we need it to perform a contract with you (advertisers, commercial, FMG Radio Hosts, or where the processing is in our legitimate interests and not overridden by your data protection interests or fundamental rights and freedoms. In some cases, as a subscriber of SLMA or FMG we may also have a legal obligation to collect personal information from you.
Security of your Personal Information
We use an assortment of procedures and security technologies to protect your Personal Information from unauthorized access, disclosure or use.  We secure the Personal Information on computer servers in a controlled, secure environment, protected from unauthorized access, use or disclosure. All Personal Information is protected using appropriate physical, technical and organizational measures.
Social Media Features
Our Websites include Social Media Features, such as the Facebook Like button and Widgets, such as the Share This button or interactive mini-programs that run on our sites. These features may collect your IP address, which page you are visiting on our sites, and may set a cookie to enable the feature to function properly. Social Media Features and Widgets are either hosted by a third party or hosted directly on our Websites. This Privacy Policy does not apply to these features. Your interactions with these features are governed by the privacy policy and other policies of the companies providing them. You do not ever have to use them. If you do, that is your choice.
External Websites
Our Websites provide links to other websites. We do not control and are not responsible for, the content or practices of these other websites. Our provision of such links does not constitute our endorsement of these other websites, their content, their owners, or their practices. This Privacy Policy does not apply to these other websites, which are subject to any privacy and other policies they may have.
Retention of Personal Information
Subscriber information is retained as long as your email addresses are accurate or you requested it be deleted or you use the unsubscribe feature. Once an email from us to sent to you and returned as undeliverable your name and personal information will be permanently deleted. We do this periodically during quiet times - housecleaning time. This keeps our mail server happy and our subscriber count accurate. To gain membership or subscriber status you must reapply completely.
We retain Personal Information that you provide to us where we have an ongoing legitimate business need to do so, (for example, as long as is required in order to contact you about the Subscription Service, sponsorship, or our other services, or as needed to comply with our legal obligations, resolve disputes and enforce our agreements).
When we have no ongoing legitimate business need to process your Personal Information, we securely delete the information.  
If you provide information to our advertiser and radio/podcast hosts as part of their use of the subscription service, our customers decide how long to retain the personal information they collect from you.
If a customer terminates its use of the Subscription Service, we will delete all customer information, including your Personal Information, from the Subscription Service. The bulk is automatically and securely deleted as soon as you click the unsubscribe link in emails or fill out the unsubscribe form request. Those all have priority.
If you have elected to receive marketing communications from us, we retain information about your preferences for a reasonable period of time from the date you last expressed interest in our content, products, or services. We retain information derived from cookies and other tracking technologies for a reasonable period of time from the date such information was created.
4. Sharing Information
Service Providers
FMG employs companies and people to provide services to visitors to our Websites, our customers, and subscribers and may need to share your information with them. Examples may include statistical analysis, processing credit card payment. In instances where we share your information with such agents, we clearly require the agent to agree to and adhere to our privacy and customer data handling policies.
FMG Radio/Podcast Hosts and Advertisers
We may share data with FMG Radio/Podcast Hosts based on the need to perform statistical analysis or customer support. Such third parties are prohibited from using your information except for these purposes, and they are required to maintain the confidentiality of your information.
Compelled Disclosure
We reserve the right to use or disclose your Personal Information if required by law.  
5. Cookies and Similar Technologies
Cookies
SLMA, FMG, LLC and its partners use cookies or similar technologies (such as web beacons) to analyze trends, administer the website, track users' movements around the website, and to gather demographic information about our user base as a whole..
Flash Cookies and Other Third Party Tracking Technologies - oh my gosh - we are having to get into so many details. It's starting to feel like a privacy lecture. Hope you are taking notes.
The Adobe Flash Player (and similar applications) use technology to remember settings, preferences, and usage similar to browser cookies but these are managed through a different interface than the one provided by your Web browser. This technology creates locally stored objects that are often referred to as "Flash cookies." We do not use Flash cookies. However, the customers of our software platform may employ Adobe Flash cookies such as our LISTEN LIVE player for our radio shows – this is from StreamGuys and Podbean for the replays.
Advertising
We DO NOT partner with any third-party ad networks to either display advertising on our Web site. We have a simple ad rotation system and script to give all sponsors fair display time on each of our sites. We track clicks and views in order to give them information as to the value of advertising with us. Nothing complicated. We use this AND Google Analytics. Between the two that's all the time we have for now to analyze data from site visitors. If you are still bugged by our simple sponsor ads, even by opting-out by clicking here: http://preferences.truste.com/ (or if located in the European Union, by clicking here: http://www.youronlinechoices.eu/) you will still see them because we don't TARGET ads, they are just in a random rotation and have nothing to do with your habits on our sites or anywhere online. Please note this does not opt you out of being served to advertise. You will continue to receive our rotating ads.
Third-Party Tracking Technologies
The use of cookies and web beacons by any tracking utility company is not covered by our Privacy Policy or Cookie Policy.
7. How to Access & Control Your Personal Data
Reviewing, Correcting and Removing Your Personal Information
You have the following data protection rights:
If we have collected and processed your personal information with your consent, you can withdraw your consent. Contact for data protection in the EEA, Switzerland, etc., and some non-European countries (including the US and Canada).) You have the right to protest to data protection authorities about FRM Associates gathering and use of your personal information.
To use these rights, contact us at [email protected]  and or by mail to Funnel Media Group LLC, 1770 Front Street, #265, Lynden, WA 98264, Attention: Privacy.
We will reply to your entreaty to change, correct, or delete your information within a reasonable time and inform you of the action we have taken.
Anti-Spam Policy
To Unsubscribe from Our Communications
You may unsubscribe from by clicking on the "unsubscribe" link located on the bottom of our e-mails, updating your communication preferences, or by sending us email us at [email protected] or postal mail to Blink of an Eye, Baltimore Mediation
1500 Union Ave., Suite 1310
Baltimore, Maryland 21211 Attention: Louise Phipps Senft, Privacy.